Ainur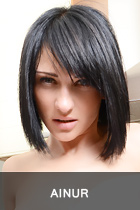 From:
Age at first shoot: 19
Height: 0 cm
Weight: 0 kg

Ainur

Ainur is a surprising girl. When we first met her we thought she was quite scary. She makes the most of her bad girl public image. But guess what? She has a totally different side to her as well. Every spare minute she has is spent looking after animals in need of care. Her work at the animal rescue centre is so important to her that sometimes she forgets to come to the photo shoot. Fortunately for us all that doesn't happen often.

Join me now to get all my sets!